Communication | Published: 06.09.2018
FRAMETALKS crossing borders
FRAMETALKS crosses many borders. Internal thought borders. Borders between nature and human. Borders between people. Its focus on 'imaginal thinking' creates bridges into the unfamiliar. According to Stefan Nadolny, the radical priest at the Neue Brüderkirche, "one of the borders that FRAMETALKS 'transcends' is the disciplinary boundary between art world and spiritual world or church."

During the final weekend, this transcending of disciplinary boundaries became clear as the social sculpture action shifted beyond the local communities and the NGO sphere and beyond those already into eco-social practice. It was also part of the art-world's Museumsnacht (Night of the Museums) and a special FRAMETALKS church service led by Stefan Nadolny.

Its initiator, Shelley Sacks says, "FRAMETALKS opens up a dialogue about contemporary forms of spiritual practice that have to do with self-determination and the connective, shaping process that takes place between human beings." "FRAMETALKS", she explains, "also invites reflection on 'suffering' and the need to distinguish between necessary and unnecessary suffering: on where to draw the line! On the relationship between the crucifixion of Jesus and the way human beings continue to 'crucify the world'."

Woven into the last two days of reflection and distillation these two events - 'the Museumsnacht' [on Sat 1 September from 5 pm till 1 am] and a 'church service' led by Stefan Nadolny, priest at the Neue Brüderkirche [on Sunday evening 2 Sept, after FRAMETALKS ended], opened up connections between the art world and the church community. Nadolny highlighted the 'connective practice' emphasis in FRAMETALKS, and the importance of focused attention and perception through the 'deerskin frame'.
The Museumsnacht event invited participants to become aware of their 'frames', gathering their perceptions and existing ideas in their booklets, and then exchanging this 'substance' through the deerskin frame, or, on a small blackboard. One hour was devoted to each of the 5 Realities.
This Museumsnacht process was preceded by short introductions from Shelley Sacks and Stefan Nadolny, and a closing reflection on the value and contribution that such work can make to the challenges and difficulties in the world. Stefan said that despite today's global problems and shared concerns, different disciplines and groupings still tend to stay in their silos, including religion and art, with little exploration of common purpose and shared approaches. Stefan, Shelley and others described how FRAMETALKS extends across many invisible but significant boundaries, and how a transdisciplinary approach could, according to Stefan, be seen as one form of 'transcendence'. Stefan said that although reaching large numbers of people with FRAMETALKS might be a challenge, posing questions in imaginative and engaging ways as FRAMETALKS does, would bring different communities together, and make a real contribution to moving beyond mutually exclusive positions and silos.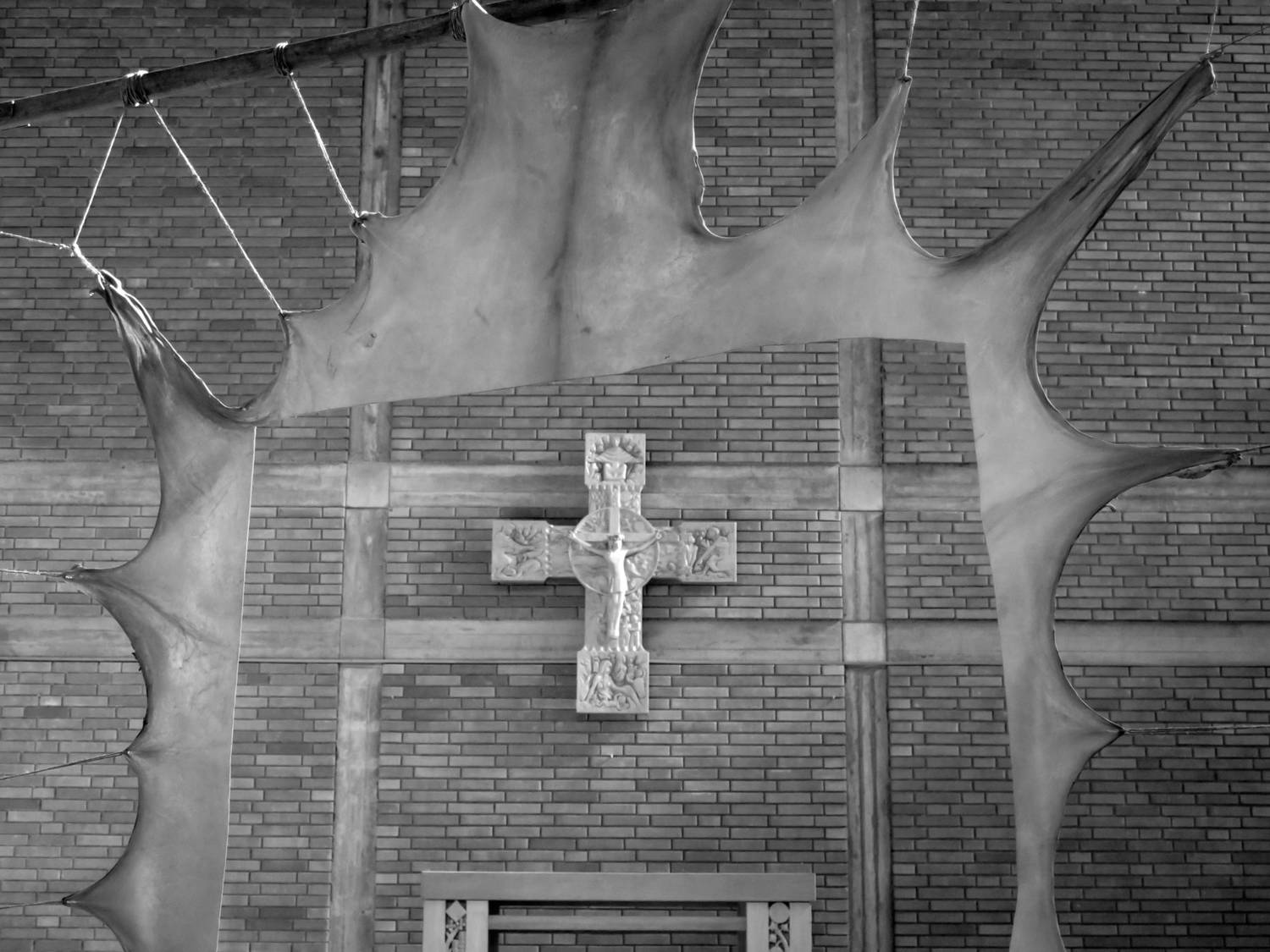 The 7-day FRAMETALKS event was followed, on the last evening, by a special church service around the 'crucified' deerskin. Stefan Nadolny created a forum in which different voices shared their experiences through the deerskin frame. A dialogue - between FRAMETALKS participants and members of the church community - focused on ways of fostering a better culture of exchange and mutual understanding in the world today. This was followed by specially selected songs, some written by Stefan himself, that focused on aspects of the FRAMETALKS week.
Although a concluding event, it also revealed how social sculpture arenas like FRAMETALKS can offer ways forward: by enabling imaginative 'thinking together' processes, they strengthen and increase the work, in Kassel and round the world, towards a more humane and ecologically just future.