Communication | Published: 22.03.2019
SOCIAL SCULPTURE ACADEMY
The Social Sculpture Academy has strong affinities with Joseph Beuys's Free International University, and with the wider stream of experiments in emancipatory education that connect self and world.

All its programmes and experiments are concerned with the transformative role of imagination in enabling connective thinking and connective practice.

The Social Sculpture Academy currently has a number of pilot programmes. In Germany, Holland and India. Although they differ a lot in relation to each specific context, they are all 'enquiries' of some kind. Designing participatory processes that allow the work of the Social Sculpture Academy to emerge and evolve is the first programme of the Social Sculpture Academy in each place.
SHARED FOCUS -PARADIGM SHIFT IN PRACTICE
All the programmes of the Social Sculpture Academy benefit from Shelley Sacks's 'Creative Strategies' approach and a 'Connective Practice for Mind-Shift Work' theory of change that Shelley has developed over 4 decades in and beyond the university in her practices and pedagogic approaches. One special feature of this approach is that it enables participants to come to new insights by exploring theory and new thinking in and through practice.

The Social Sculpture Academy's 'creative, participatory enquiries' are informed by Joseph Beuys' 'social sculpture' proposals, Paolo Freire's 'education for democracy' pedagogies and the phenomenological insights of Goethe and imagination-based psychologists like James Hillman. They also benefit from Shelley's many years of practice as an interdisciplinary artist-teacher-researcher-writer-activist, who not only worked intensively with Joseph Beuys, and in the context of Europe, but has developed and extended the contemporary field of social sculpture into many different regions and political-cultural contexts.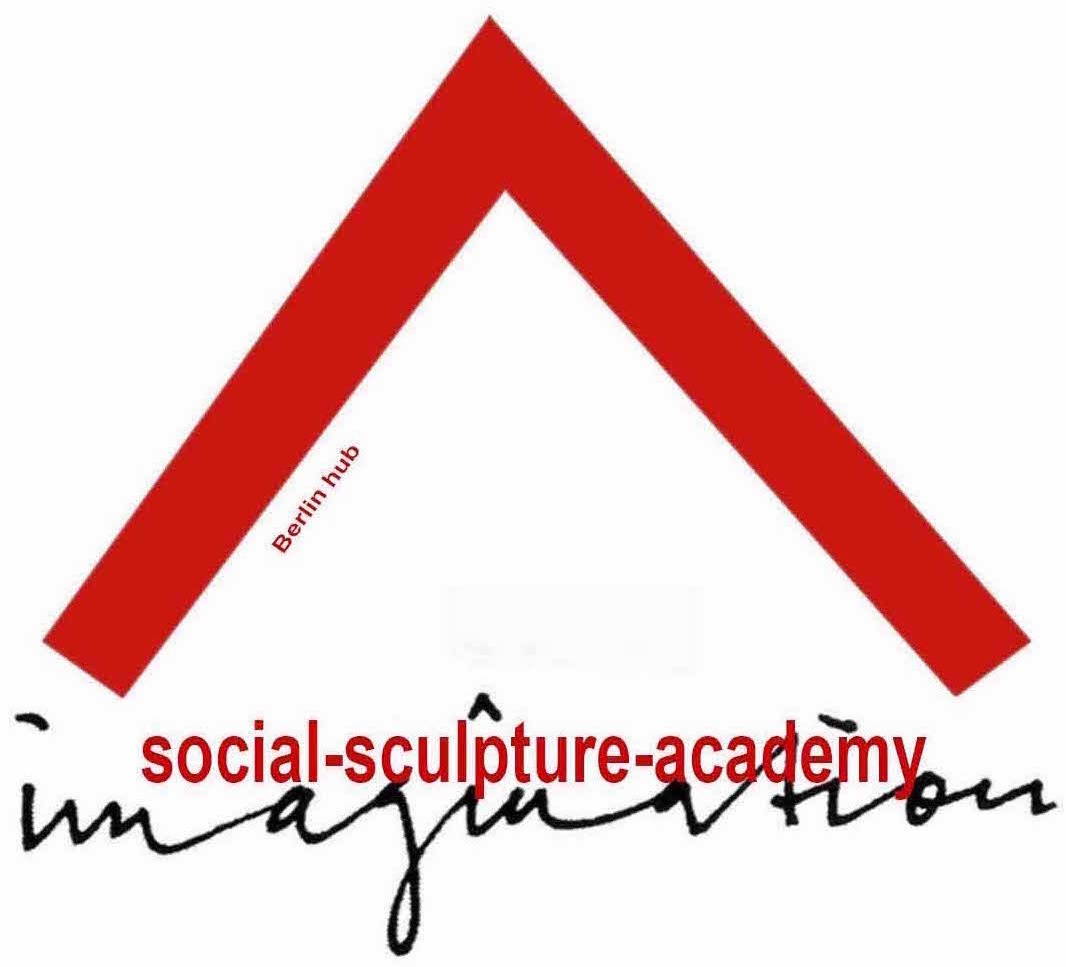 THE SOCIAL SCULPTURE ACADEMY - BERLIN HUB
The most recent call for a Social Sculpture Academy in Berlin has emerged from events in 2018 where Shelley Sacks was invited to present her ideas for a Social Sculpture Academy beyond academia. Beginning on Saturday 23 March, a group of about 30 people will meet in Berlin, to consider Shelley's proposal that the first programme of the Berlin hub, be an extended and intensive 'permanent conference' style open process around a shared set of questions. Approximately 30 more people intend participating in the autumn meeting, with another 25 in many different countries, who want to participate online. Shelley is joined in the Berlin process by Bodo von Plato, Peter Guttenhöffer and Rebecca Gasson.

Instead of a curriculum being proposed at the outset by a group of social sculpture 'experts', everyone is being invited to participate in a joint exploration of the capacities needed to shape an eco-social future based on interconnectedness, and which enable individual and collective agency in these times of multidimensional crisis. This process is also designed to allow an appropriate curriculum to emerge and evolve, as well as an intergenerational, cross-cultural faculty.
A further significant question has to do with exploring the image of life and of the human being that is mostly not explicit or consciously considered, and which lies behind all visions and proposals for the future - like the 4th Industrial Revolution, global genetically engineered food production, or the crises in education being solved by children all having tablets to access more information. For several of the people involved in the Berlin hub, this exploration of our image of life and of the human being is urgent, particularly if we want to get out of the future we don't want, and as Beuys said 'shape the future we do want!' The 'permanent conference' although an open process is, through its questions, also a very focused and structured creative enquiry.
Please contact Rebecca Gasson: rja.gasson@gmail.com or phone 017699850744 if you want to be involved on 23 March.
Check out this website or email ssacks@brookes.ac.uk if you want to be further informed.
THE SOCIAL SCULPTURE ACADEMY - HOLLAND HUB
Facilitated and inspired by Clarine Campagne, it has been active since autumn 2018. Shelley Sacks has worked with Clarine and several groups and networks in 9 half-day processes between Sept 2018 and March 2019 using the 'Landing Strip for Souls' practice. Out of this a social sculpture-connective practice 'pilot programme' has emerged. This trial programme in Holland begins in November 2019 and runs till May 2020. It involves 5 2.5 day processes. The focus of the programme is on 'renewal processes' in organisations and movements.

THE SOCIAL SCULPTURE ACADEMY - 'WORKSPACE' - IN INDIA
Working actively with Marion Mueller, Director of the Heinrich Böll Foundation in India and its Delhi programme team, Shelley has devised 'a creative enquiry process' that incorporates the UOT LAB's Earth Forum. The process will be trialled in the Northeast region of India in April-May 2019. One intention of this collaboration is to see if this creative enquiry approach - which includes practices that link inner and outer dimensions of eco-social transformation, that connect self and world - could be used much more widely in other countries and continents. One aim of this approach is to allow 'agendas for transformation' to evolve and emerge through a specially designed social sculpture-connective practice involving all the participants. WORKSPACE explores ways of thinking and imagining together as an alternative to conference and workshop formats.
THE SOCIAL SCULPTURE ACADEMY INITIATIVE - KASSEL Germany
Through its work with the UOT MICROLAB für Soziale Plastik-Kassel, a 'social sculpture outreach strategy' is being developed that will, over a three year period, enable contemporary social sculpture practices to be introduced for use by citizens in all 23 areas of the city. It is closely connected to other local citizens and cultural initiatives like Essbare Stadt, the sustainability seminars at the University of Kassel and to exchanges about the relationship between the ecological, aesthetic, political and spiritual dimensions, that contemporary social sculpture understandings and practices enable. A number of people are active in developing this social sculpture outreach strategy including Karsten Winnemuth, Hartmut Hübner and Heimo Thiele. Gudrun Spanh-Krotzski is enabling and co-shaping the 'connective thinking' seminars at the university and Stefan Nadolny is opening up the exchange with Shelley Sacks on the way that social sculpture links the spiritual, political, ecological and the aesthetic through its underlying principles and practices.
Legal Structure The Social Sculpture Academy is an initiative of the UOT Lab's Institute for Eco-Social Practice which is a UK registered CIC [Community Interest Company]. Currently it uses the UK legal structure of the UOT LAB for funding. It seems likely that it will need to have specific legal structures in different countries, in particular, in order to receive funding from certain agencies that only give to projects in their home context. We are currently exploring this.