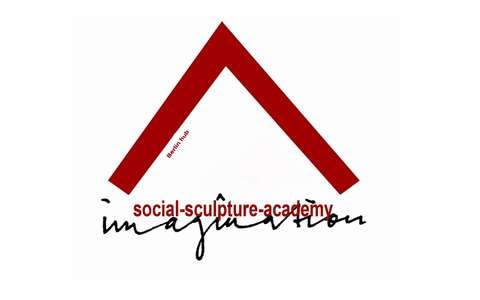 The Social Sculpture Academy has strong affinities with Joseph Beuys's Free International University, and with the wider stream of experiments in emancipatory education that connect self and world.

All its programmes and experiments are concerned with the transformative role of imagination in enabling connective thinking and connective practice.

The Social Sculpture Academy currently has a number of pilot programmes. In Germany, Holland and India. Although they differ a lot in relation to each specific context, they are all 'enquiries' of some kind. Designing participatory processes that allow the work of the Social Sculpture Academy to emerge and evolve is the first programme of the Social Sculpture Academy in each place.
SHARED FOCUS -PARADIGM SHIFT IN PRACTICE
All the programmes of the Social Sculpture Academy benefit from Shelley Sacks's 'Creative Strategies' approach and a 'Connective Practice for Mind-Shift Work' theory of change that Shelley has developed over 4 decades in and beyond the university in her practices and pedagogic approaches. One special feature of this approach is that it enables participants to come to new insights by exploring theory and new thinking in and through practice.

The Social Sculpture Academy's 'creative, participatory enquiries' are informed by Joseph Beuys' 'social sculpture' proposals, Paolo Freire's 'education for democracy' pedagogies and the phenomenological insights of Goethe and imagination-based psychologists like James Hillman. They also benefit from Shelley's many years of practice as an interdisciplinary artist-teacher-researcher-writer-activist, who not only worked intensively with Joseph Beuys, and in the context of Europe, but has developed and extended the contemporary field of social sculpture into many different regions and political-cultural contexts.
Read More »