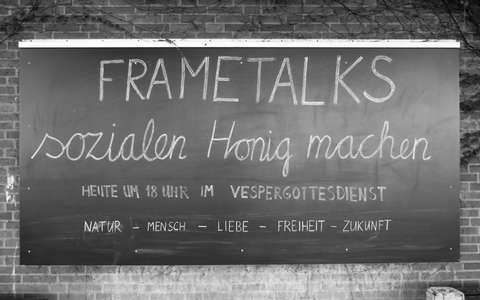 FRAMETALKS crosses many borders. Internal thought borders. Borders between nature and human. Borders between people. Its focus on 'imaginal thinking' creates bridges into the unfamiliar. According to Stefan Nadolny, the radical priest at the Neue Brüderkirche, "one of the borders that FRAMETALKS 'transcends' is the disciplinary boundary between art world and spiritual world or church."

During the final weekend, this transcending of disciplinary boundaries became clear as the social sculpture action shifted beyond the local communities and the NGO sphere and beyond those already into eco-social practice. It was also part of the art-world's Museumsnacht (Night of the Museums) and a special FRAMETALKS church service led by Stefan Nadolny.

Its initiator, Shelley Sacks says, "FRAMETALKS opens up a dialogue about contemporary forms of spiritual practice that have to do with self-determination and the connective, shaping process that takes place between human beings." "FRAMETALKS", she explains, "also invites reflection on 'suffering' and the need to distinguish between necessary and unnecessary suffering: on where to draw the line! On the relationship between the crucifixion of Jesus and the way human beings continue to 'crucify the world'."

Read More »